Breast Enlargement (Augmentation)
Introduction
Breast enlargement is an operation for women who desire larger breasts, who would like to improve the symmetry of their breasts or for those who would like to replace breast tissue which has been lost as a result of pregnancy, breast feeding or weight loss.
Our expert Consultant Plastic Surgeon can:
Enhance the size of the bust
Change the shape of the bust
Improve symmetry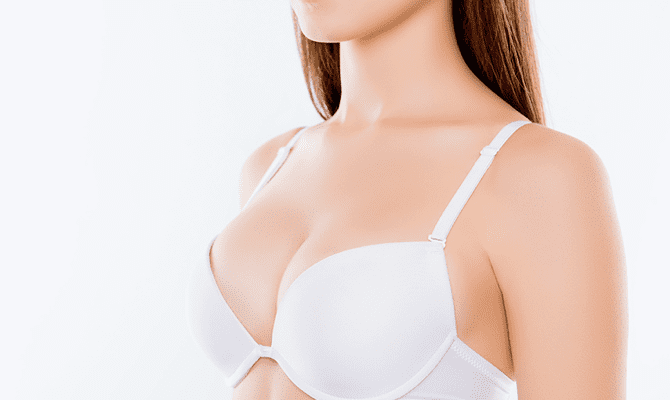 How would Breast Enlargement (Augmentation) benefit me?
Are you unhappy with the size or shape of your breasts?  When you are shopping for clothes or planning an outfit for a special event are you restricted in the choice of style due to the size of your bust?  Perhaps pregnancy has changed your shape and you would like to regain your pre-pregnancy silhouette? There are many reasons why breast enlargement is one of the most popular cosmetic procedures in the UK.  We cannot claim that it will be a life changing option for you but we do know that this surgery has improved the confidence and self-esteem of many of our clients.
Breast Enlargement Surgery Consultation
An initial consultation will give you the opportunity to talk to your Consultant Plastic Surgeon about why you want surgery and what result you would like to achieve.  Our surgeon will examine your breasts and skin carefully and may take some photographs.  A full medical history will be taken to assess your suitability for surgery and your options will be discussed.
To achieve the best results, breast enlargement surgery may be combined with other cosmetic procedures including a breast lift (mastopexy) or tummy tuck (abdominoplasty)
What type of implants are used?
We use only the highest quality silicone implants with 10 year manufacturer's guarantees'.   Silicone gel gives a natural, tissue-like feel. 
Implants can be either round or teardrop shaped (anatomic) to give different end results.  Round implants aim to create a rounder, fuller upper part of the breast when viewed from the side whereas a teardrop shaped implant will give a more natural, flatter look to the top of the breast.
An aspect to consider is where the implant will be positioned.  Individuals with more breast tissue can have breast implants inserted into the subglandular pocket, under the breast.  Those who are very slim or have less natural breast tissue will undergo a different insertion technique below the pectoralis major muscle in the subpectoral plane.  This approach helps to create a more natural result as the muscle helps to cover the upper part of the implant making it more discreet.
If your breasts are particularly droopy and particularly if the nipples lie low you may need a breast lift (mastopexy) as well as an enlargement.  A mastopexy lifts the nipple and tightens the skin, ensuring the breast sits correctly in relation to the implant and enhancing the overall look of your breasts.  It can be carried out at the same time as the enlargement or separately.  
Breast Enlargement Procedure
Breast enlargement is performed under general anaesthetic and takes approximately one to one and a half hours. To insert the implant an incision is made in the fold under the breast.  Through this a pocket is made to fit the chosen implant.  The incision is closed with dissolving stitches with paper stitches and a dressing placed on top.
Breast Enlargement Recovery and Aftercare
An overnight stay in hospital is normal after which you can return home. It is important to keep your dressings dry until a nurse removes them and checks your wounds approximately 10 days after surgery. You will be advised to wear a sports bra day and night for 6 weeks to help recovery.  Some swelling is normal and usually settles over the first few months.  It is usually possible to return to work after the first week or two although if your work involves heavy lifting it is advised to avoid this for six weeks.  Heavy activity and sport should also be avoided for 6 weeks.  Follow up appointments will be scheduled to check on your progress.
Risks associated with Breast Enlargement Surgery
Like all types of surgery, there are some risks associated with breast enlargement surgery (augmentation). Although the risks are unlikely, it is very important to weigh these up against the benefits of the surgery.  A consultation with your surgeon will help you to choose the right procedure and discuss any possible complications. For further information on the procedure please visit the British Association of Aesthetic Plastic Surgeons (BAAPS) website
here
.
Before/After pictures