Nose Shaping (Rhinoplasty)
A Rhinoplasty is an operation to change the appearance of your nose.
Our skilled Consultant Plastic Surgeon can help to:
Reduce humps
Narrow or widen the nose
Narrow and refine the tip
Reduce the forward projection of the nose
Straighten a squint nose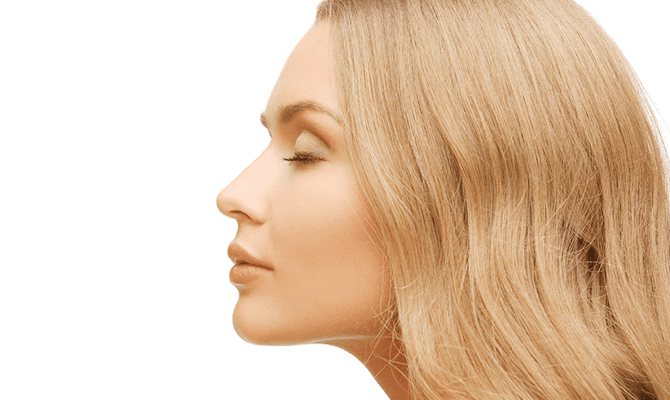 How could Rhinoplasty benefit me?
The nose is the most central and prominent facial feature.  If you are unhappy about the way in which your nose looks it can have a great impact on your self-confidence particularly in photographs or when meeting new people.
Cosmetic facial treatments which enhance the symmetry and proportions of the face can have a dramatic effect on self-esteem, making you feel ready to face the world.
Rhinoplasty Consultation
An initial consultation will give you the opportunity to talk to your Consultant Plastic Surgeon about why you want surgery and what result you would like to achieve.  Our surgeon will examine your nose carefully and may take some photographs.  A full medical history will be taken to assess your suitability for surgery and your options will be discussed.
To achieve the best results, Nose Shaping (Rhinoplasty) is often combined with other cosmetic procedures including Non-Surgical Nose Reshaping & Upper Eyelid Surgery (Blepharoplasty).
Rhinoplasty Procedure
A rhinoplasty is performed under general anaesthetic and takes approximately 2 and a half hours.
A rhinoplasty is completed using the open technique which means that an incision is made across the narrow skin between the nostrils (the columella) and inside the nostrils. This leaves a small scar across the exterior of the nose but this usually heals well and is often not noticeable.
The benefits of the open technique include:
Nasal tip alterations can be made by sight and not just by feel.
The nose is more visible making the operation easier for the surgeon to perform.
There is direct exposure of the anatomic structures of the nose.
For some patients it may be necessary to break the nose to achieve the optimum result.  If so there may also be tiny holes on each side of the nose.  In patients where it is necessary to build the nose up cartilage grafts may be used.  Cartilage can be sourced either form between the nostril passages (the septum) or the ear. Incisions are closed with dissolving stitches inside and non-dissolving stitches to the skin.
Rhinoplasty Recovery and Aftercare
After surgery you will need to stay in hospital overnight.  There will be a splint over your nose for 1 week.  There will be some bruising and black eyes are common which take 2 or more weeks to resolve.  Most swelling will have subsided after 6 weeks but it will take up to 1 year to see the final result.
It is recommended that you refrain from working for two weeks post surgery and that strenuous exercise is avoided for at least six weeks.  
A number of follow up appointments will be scheduled to check on your progress.
Risks associated with Rhinoplasty
Like all types of surgery, there are some risks associated with a rhinoplasty.
Although the risks are unlikely, it is very important to weigh these up against the benefits of the surgery.  A consultation with your surgeon will help you to choose the right procedure and discuss any possible complications.
For further information on the procedure please visit the British Association of Aesthetic Plastic Surgeons (BAAPS) website here.
Before/After pictures